TELFORD LAND DEAL ENABLES BUSINESS GROWTH, CREATING NEW OPPORTUNITIES FOR TELFORD'S EMERGING TALENT
Back in 2018, Telford & Wrekin Council began discussions with Telford design and creative agency, Kensa Creative who were looking to relocate their business to ensure they could sustain the rapid growth of their company.
The discussion with Telford & Wrekin Council's Inward Investment Team arose at a time when the Council were looking to develop Horton Wood West a patch of land off the A442.  The land was being brought to market as part of the Telford Land Deal a partnership between Telford and Wrekin Council, Homes England and the Marches Local Enterprise Partnership.
Kensa saw the potential of the site and were able to purchase a plot, with the design for their building being undertaken by the Council's in-house design team, bIT.  Now 3 years on the £600,000 relocation has been completed and Kensa Creative are settled in and operating from their 418sqm new office space spanning over two floors.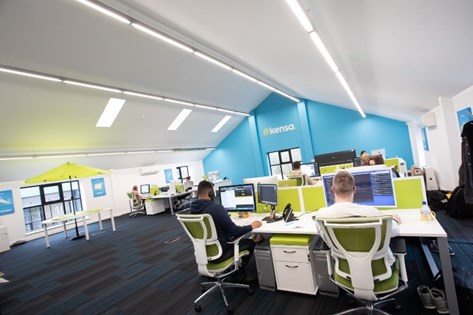 With the expansion of space, it presented the opportunity to take on new staff. Kensa Creative are looking forward to adding another 3-4 new members of staff in the coming year, as well as the continuation of development of existing talent, such as the evolution of our first apprentice Dean, a Telford resident new to the digital sector.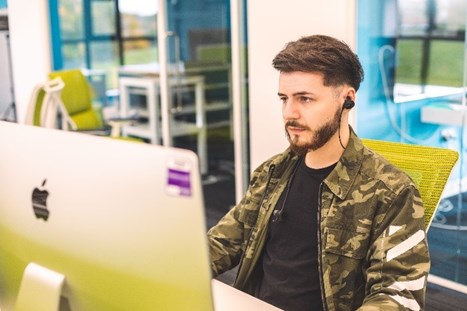 "Without the move to Hortonwood West and the support that Telford & Wrekin Council's Estates and Investments Team and Business Support Team our business wouldn't be where it is today nor would we have been able to take on new creatives like Dean."
Dean's apprenticeship took him on a 3 year journey where he learnt a range of new skills including holistic design principals, designing for print and digital solutions and motion graphics including animation in a sector that is growing locally.  Managing Director Scott Clarke saw the potential in Dean and was so impressed by his work ethic and willingness to learn that he decided to take Dean on as a full time employee.
Dean Morris, Animator said: "Starting my apprenticeship at Kensa Creative was one of the best career choices I could have made. I have not only learnt new skills but am now a fully qualified graphic designer and Lead Animator for the company.
Scott Clarke, Managing Director at Kensa Creative said:  "Kensa has grown significantly year on year, quickly reaching the point where we can't squeeze any more people into our former office space.  Our new office has not only provided an opportunity for us to grow as a business but also for us to be able to take on new staff".
"We are proud to be a Telford business, employing local people. Since the move we have taken on 3 new members of staff as well as Dean as an apprentice. We have watched Dean flourish from apprentice to our lead Animator in just a few years".
"Without the move to Hortonwood West and the support that Telford & Wrekin Council's Estates and Investments Team and Business Support Team our business wouldn't be where it is today nor would we have been able to take on new creatives like Dean."