TELFORD LAND DEAL ENABALES HELPING HAND AT THE ALLOTMENTS
Earlier in 2021 land at Newcomen Way was sold to Keon Homes Ltd for the development of 55 affordable homes. The land was brought to the market as part of the Telford Land Deal, a partnership between Telford and Wrekin Council, Homes England and the marches Local Enterprise partnership.
Keon were contacted by the Woodside Allotments and Leisure Gardner's Association, who are located next door to Newcomen Way, about their car park which had become boggy due to the recent bad weather. The Woodside Allotments and Leisure Gardeners Association (waalga) in Telford were in desperate need of a new surface on their carpark. It had become a no go area with the heavy rainfall and mud being churned up under car tyres. The surface had become very uneven. Waalga approached Keon Homes and they agreed to help and along with their sister company Chasetown Engineering Ltd were able to clear the existing car park and relay the area with hardcore to reinvigorate the site and reinstate the use of the car park.
The allotments are regularly used by the local community and have been a lifeline for the vulnerable, elderly and local families. Some of the produce grown goes to the local food bank so the reach is far and wide.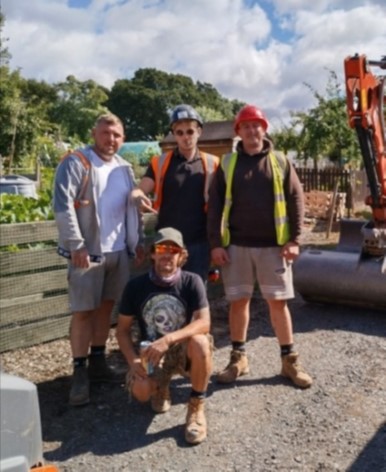 Simon Wilson, Project Manager for Keon Homes Commented 'We like to leave a lasting positive legacy on our sites and their surroundings; by helping the allotment committee we certainly feel proud to make the area accessible for more local residents to enjoy for many years to come."