Monday, 23 September 2019
£4m investment by Filtermist to meet growing demand
One of the UK's leading industrial air filtration and extraction specialists has invested in a new £4m distribution centre at T54, Telford's premier industrial site, to help it meet growing demand for its products.
Filtermist International, which is part of the Absolent Group, has taken on a 30,000 sq ft unit just a few minutes' walk from its purpose built headquarters at T54.
Organic sales growth and the acquisitions of the DCS Group of Companies and Kerstar Ltd in the last six months have resulted in the decision to create a central facility to house the firm's logistics operation.
Filtermist has a long standing history in the Telford area. They formed back in 1969 and now export to more than 60 countries worldwide, with 92 per cent of all oil mist filters manufactured in Telford destined for the export market.
Filtermist moved to its T54 headquarters in 2015 with an ambitious five year growth plan. However this plan was achieved within the space of two years – hence the need for the new distribution centre.
The expansion has been made possible through a new development by Telford and Wrekin Council funded through a £50 million Growth Fund on a site made available through the unique Telford Land Deal.
The deal which brings forward redundant industrial sites by investing in infrastructure to encourage investment and expansion is a partnership between the Council, Homes England and the Marches Local Enterprise Partnership.
Filtermist's development will enhance stock control and delivery lead times even further as well as freeing up additional capacity to increase the company's metal fabrication footprint.
"Domestic and export orders have increased dramatically over the past five years as the global demand to create cleaner, safer and more productive workshops that deliver clean air continues to grow," said James Stansfield, chief executive officer of Filtermist International.
"With volumes increasing and additional capacity required as a result of some of our acquisitions, we made the decision to increase our footprint.
"We have worked very closely with Telford & Wrekin Council and we are delighted to have a site close to our existing headquarters and well positioned for the transport network, with close access to the M54.
Councillor David Wright, Telford & Wrekin Council's cabinet lead for the Land Deal, said: "This is a case of Telford & Wrekin Council providing speculative units to cater for high demand in the market.
"Our units within the Council's property portfolio are fully let and there is a lack of this type of stock in our borough so it makes sense for us to step in where developers are reluctant to do so.
"T54 is a great location – well positioned to take advantage of Telford's excellent transport links."
Councillor Lee Carter, Telford & Wrekin Council's cabinet member for Finance, Commercial Services and the Borough Economy, said: "The development of the new unit has been funded by the Council through our £50m Growth Fund, which enables the Council to invest and expand its property portfolio.
"As a council, we are committed to encouraging new companies to inwardly invest in our borough and also to encouraging existing companies like Filtermist to expand."
Rod Spiby, a director of Bulleys Bradbury, said: "We are delighted to have helped Telford & Wrekin Council secure Filtermist as the tenant to Unit 5C at T54 and the letting sets a new benchmark for industrial property deals in this area and underlines Telford's position as an attractive destination for manufacturing companies.
"There continues to be very strong demand across the region for good quality industrial and warehousing space such as this. It shows that the right high quality tenant can always be found for the right unit, marketed at the right price.
"It has been good to work with Telford & Wrekin Council again on such an ambitious and far-sighted scheme which has had such tremendous success.
"All the currently deliverable land at T54 has been sold with a good variety of occupiers making this their home. Just one unit of 17,545 sq ft remains available to lease if there is a business wishing to join this success story."
Interested parties should contact Estates and Investments at Telford and Wrekin Council via the website www.estatesandinvestments.co.uk  or via email on Estates&.Investments@telford.gov.uk, or, Bulleys Bradbury at www.bulleys.co.uk
CAPTION: Councillor David Wright, Telford & Wrekin Council's cabinet lead for the Land Deal, with Filtermist International chief executive James Stansfield.
You may be interested in: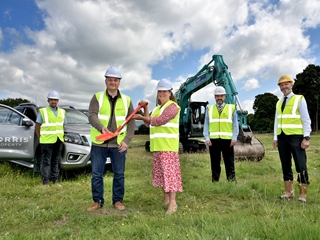 Tuesday, 21 June 2022
Morris Property wins contract to buil...
Contractor Morris Property has won a £9m contract to build 24 new units at Plot 12, Hortonwood for start-ups, small businesses and larger firms looking to grow in Telf...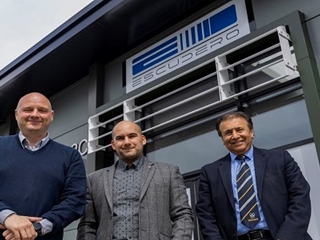 Friday, 27 May 2022
Escudero Auto gears up for manufactur...
Mechanical systems and design specialist Escudero Auto Ltd is gearing up to make Ni.PARK its manufacturing hub.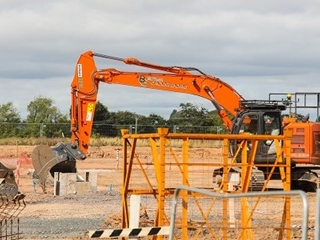 Monday, 23 May 2022
Telford & Wrekin Council gives green ...
Telford & Wrekin Council's Estates and Investments team has given the go-ahead for a series of commercial units on land acquired through the Telford Land Deal.