Thursday, 01 February 2018
Independent pizza chain choses Telford for national expansion
The UK's fourth largest takeaway and home delivery pizza chain, Pizza GoGo, will create 25 new jobs when it fully opens its new specialist manufacturing and distribution centre in Telford later this month.
The firm's arrival was made possible thanks to Enterprise Telford and has attracted almost £150,000 of funding from the Business Growth Programme, which was used to purchase the firm's new Midlands base. A further £100,000 from the Marches LEP's Building Investment Grant (MBIG) enabled essential expansion work to be carried out immediately. Both revenue streams were part-funded by the European Regional Development Fund.
Founded in Essex over 30 years ago, Pizza GoGo has steadily grown, now boasting more than 100 branches throughout the South East of England. With nationwide expansion next in its sights, the search began for a suitable distribution base in the Midlands or North of England to support its ambitious growth plans.
Telford was chosen due to its proximity to the UK's road network and availability of suitable premises to support such a manufacturing facility and a unit was purchased on Stafford Park in 2017.
The funding received meant the team at Pizza GoGo has been able to expand the site straight away. Michael Harte, Managing Director for the Midlands at Pizza GoGo, explains:
"Telford proved an ideal location for our expansion and the unit we chose with the support of Enterprise Telford ticked many boxes. However, we knew further expansion would be needed to realise our vision of not only having an office and distribution provision here, but also a dedicated cheese manufacturing facility.
 "Realistically, without the funding, this additional development would have been put off for a couple of years and a temporary solution put in place in the South East."  
Pizza GoGo, which counts Domino's, Pizza Hut and Papa John's as its main competitors, had already said it would create 15 full-time jobs in Telford, but the further expansion, means an additional 10 jobs have now been confirmed. By tapping into both programmes, Pizza GoGo has been able to significantly accelerate its growth strategy and provide jobs for the borough.
One of the new employees, Telford-born Jessica Richards, comments: "It's great to see Pizza GoGo investing in local people. I didn't come from a food and hospitality background, but thanks to the support of the company I've been able to gain the skills and management experience needed to succeed in my new role."
Michael continues:
"We weren't familiar with the MBIG grant when we decided to invest in Telford, so when the Inward Investment team at Enterprise Telford made us aware of it, we were able to re-evaluate our onward plans and realise further expansion much sooner than anticipated.
 "Of course, knowing we had the support of Louise Harding and the Enterprise Telford team to recruit the necessary talent to fill these additional jobs helped enormously too.
 "The support meanwhile from MBIG Programme Manager, Caroline Cattle and her team was brilliant – they provided guidance at every stage of our application and the quality of their feedback was always spot on and delivered in a timely manner which was very much appreciated when there's so much else to focus on."
Shaun Davies, leader of Telford & Wrekin Council and ambassador for Enterprise Telford, the Council's investment and business support service, adds: "Telford attracts a wide range of manufacturing businesses and to be chosen by Pizza GoGo for its nationwide expansion is a significant coup for the town. This business win highlights our commitment to inward investment and vision to generate long-term economic prosperity in the area."
LEP Director Gill Hamer, concludes: "This investment is also a fabulous example of a company seeking guidance, support and investment from a variety of partners across the region and the joined-up approach that has consequently been taken, will make a hugely significant impact on the local economy."
You may be interested in:
Tuesday, 15 September 2020
Development opportunity at former Sti...
Telford & Wrekin Council is promoting a development opportunity at the site of the former Stirchley Leisure Centre which will ultimately result in a positive regenerat...
Tuesday, 08 September 2020
Hortonwood West Development shortlist...
A development of multi-let start up units at one of Telford's premier industrial sites has been shortlisted for the final of the Local Authority Building Control Awards.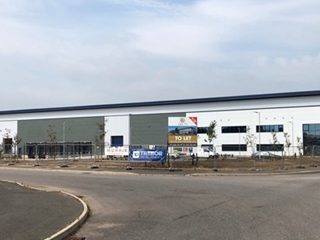 Tuesday, 18 August 2020
Largest speculative industrial develo...
Construction has completed on the largest speculative industrial development in Telford for 10 years.